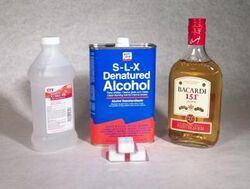 Alcohol is the ethanol that gives a cocktail its kick and is safe in small quantities.
Alcoholic beverages are divided into three general classes: beers, wines, and spirits.
Ethanol, also called ethyl alcohol, pure alcohol, grain alcohol, or drinking alcohol, is a volatile, flammable, colorless liquid with the structural formula CH3CH2OH, often abbreviated as C2H5OH or C2H6O. It is also used as a psychoactive drug and is one of the oldest recreational drugs still used by humans. Ethanol can cause alcohol intoxication when consumed. Best known as the type of alcohol found in alcoholic beverages, it is also used in thermometers, as a solvent, and as a fuel. In common usage, it is often referred to simply as alcohol or spirits.
Ad blocker interference detected!
Wikia is a free-to-use site that makes money from advertising. We have a modified experience for viewers using ad blockers

Wikia is not accessible if you've made further modifications. Remove the custom ad blocker rule(s) and the page will load as expected.