Ad blocker interference detected!
Wikia is a free-to-use site that makes money from advertising. We have a modified experience for viewers using ad blockers

Wikia is not accessible if you've made further modifications. Remove the custom ad blocker rule(s) and the page will load as expected.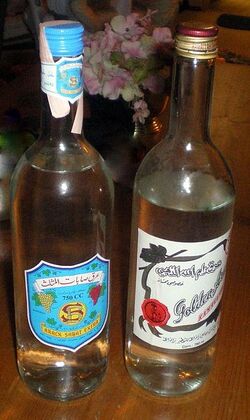 Arak, or araq, is an Arab alcoholic spirit (~40–63% Alc. Vol./~80–126 proof) from the anise drinks family. It is a clear, colorless, unsweetened anise-flavored distilled alcoholic drink (also labeled as an Apéritif). It is the traditional alcoholic beverage in Lebanon, Iraq, Syria, Palestine, Jordan, and Israel.
Major brands
Edit
The most commonly known Arak brands are:
Batta (ﺍﻟﺒﻄﹽﺔ)
Dinan (ﺩﻧﺎﻥ)
Al-Hayat (ﺍﻟﺤﻴﺎﺓ)
Al Mimas (ﺍﻟﻤﻴﻤﺎﺱ)
Rayan (ﺍﻟﺮﻳﹽﺎﻥ)
Al Jaraa (الجرة)
Jododona (جدودنا)
Brdone (بردوني)
Al Reef (الريف)
As Samir (السمير)
Arak el Rif (ﻋﺮﻕ ﺍﻟﺮﻳﻒ)
Batroun Mountains (جبال البترون)
Brun (ﺑﺮﺍﻥ)
Al-Laytany (ﺍﻟﻠﻴﻄﺎﻧﻲ)
Al-Shallal (الشلال)
Al-Zahlawi (زحلاوي)
El Massaya (ﻣﺴﺎﻳﺎ)
Fakra (ﻓﻘﺮﺍ)
Ghantous and Abi Raad (ﻏﻨﻄﻮﺱ ﻭ ﺃﺑﻲ ﺭﻋﺪ)
Kefraya (كفرَيا)
Ksarak (ﻛﺴﺎﺭﺍﻙ)
Layali Loubnan (ﻟﻴﺎﻟﻲ ﻟﺒﻨﺎﻥ)
Musar (ﻣزﺍﺭ)
Nakd (ﻧﻜﺪ)
Riachi (ﺭﻳﺎﺷﻲ)
Tazka (ﺗﺰﻛﺎ)
Touma (ﺗﻮﻣﺎ)
Wardy (ورده)
Palestinian Territories
Edit
Ramallah Golden Arak (عرق رام الله الذهبي)
Sabat Arak (عرق صابات)
Haddad (حداد)
Zumout (زعمط)
Arak Kawar (عرق قعوار)
Elite Ha'arak (עלית הארק)
Arak Ashkelon (ארק אשקלון)
Aluf Ha'arak (אלוף הערק)
Arak El Namroud (ערק אל-נמרוד)
Arak Ha'Namal 40 (ערק הנמל 40)
Arak Mabruoka (ערק מברוקה)
Arak Masada (ערק מצדה)