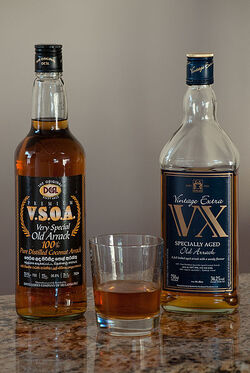 Arrack, also spelled arak, is a distilled alcoholic drink typically produced in South Asia and Southeast Asia, made from either the fermented sap of coconut flowers, sugarcane, grain (e.g. red rice) or fruit, depending upon the country of origin. The clear distillate may be blended, aged in wooden barrels, or repeatedly distilled and filtered depending upon the taste and color objectives of the manufacturer.
Arrack is not to be confused with Arak, an anise-flavored alcoholic beverage traditionally consumed in Eastern Mediterranean and North African countries.
Ad blocker interference detected!
Wikia is a free-to-use site that makes money from advertising. We have a modified experience for viewers using ad blockers

Wikia is not accessible if you've made further modifications. Remove the custom ad blocker rule(s) and the page will load as expected.