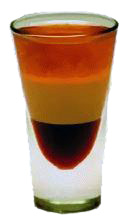 The B-52 is a layered Shooter upon which the B-50 series of shooters is based.
Description
Edit
B-52 from the Wikibooks Bartending Guide—source of introduction and ingredients
Bartending/Techniques from the Wikibooks Bartending Guide—source of directions
Serves: 1
Ingredients
Edit
Directions
Edit
Float the ingredients, in order, into a straight-sided Shot glass
Variations
Edit
Combine ingredients in a Mixing glass with ice
Stir until chilled
Ad blocker interference detected!
Wikia is a free-to-use site that makes money from advertising. We have a modified experience for viewers using ad blockers

Wikia is not accessible if you've made further modifications. Remove the custom ad blocker rule(s) and the page will load as expected.