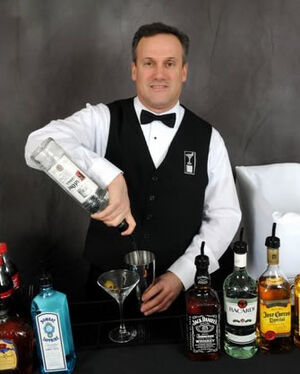 A bartender (also known as a barkeep, barman, barmaid, or a mixologist) is a person who serves usually alcoholic beverages behind the bar in a licensed establishment or private setting.
Bartenders also usually maintain the supplies and inventory for the bar. A bartender can generally mix classic cocktails such as a Cosmopolitan, Manhattan, Old Fashioned, and Mojito.
Bartending profession was generally a second occupation, or transitional work for students to gain customer experience or to save money for university fees. This however is changing around the world and bartending has become a profession by choice rather than necessity.
In America, where tipping is a local custom, bartenders depend on tips for most of their income. Bartenders are also usually responsible for confirming that customers meet the legal drinking age before serving them alcohol. In certain countries, such as Australia and Sweden, bartenders are legally required to refuse more alcohol to drunk customers.
Ad blocker interference detected!
Wikia is a free-to-use site that makes money from advertising. We have a modified experience for viewers using ad blockers

Wikia is not accessible if you've made further modifications. Remove the custom ad blocker rule(s) and the page will load as expected.