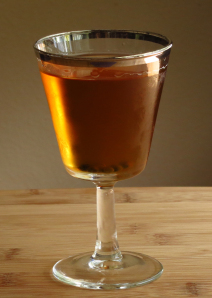 Ingredients
Edit
2 1/2 oz Mezcal (something fairly intense; we used Del Maguey Tobala)
3/4 oz Barenjager
2-3 dashes of soy sauce, depending on how dirty you like it.
Directions
Edit
Stir with ice, strain into a glass and garnish with pickled green pepper corns.
Nose: Smoke, petrol, little bit of salty soy, very faint honey comb
Palate: Salt, smoke and petrol, followed by a tingly mint leading into resiny spicy notes. This fades into mineral flavors followed by a sweet and bitter finish. The spiciness on the mid-palate is almost like rye. Nice silky mouth feel. Petrol comes back as an after taste.
Minty, resiny spice is not something we normally get with this mezcal and it's certainly not coming from the Barenjager or the soy sauce. This is definitely one of those drinks where the various components are coming together to make something entirely different.
Ad blocker interference detected!
Wikia is a free-to-use site that makes money from advertising. We have a modified experience for viewers using ad blockers

Wikia is not accessible if you've made further modifications. Remove the custom ad blocker rule(s) and the page will load as expected.