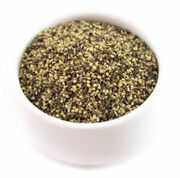 Black pepper is a spice which is used in some cocktails. This is the same black pepper commonly found on your dining table. It is also sometimes used to rim cocktail glasses.
Pepper may also be infused into a base spirit, such as vodka, creating a pepper-infused liquor that may be used for mixing drinks or for cooking.
Ad blocker interference detected!
Wikia is a free-to-use site that makes money from advertising. We have a modified experience for viewers using ad blockers

Wikia is not accessible if you've made further modifications. Remove the custom ad blocker rule(s) and the page will load as expected.