Blending is the process of mixing things together. In mixology, there are two distinct uses for the term:
Using a Blender
Edit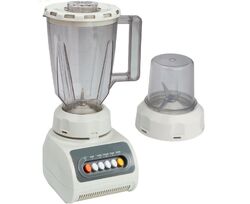 You can combine liquors, juices, fruits, and more in a blender to make a puréed combination.
Blended Spirits
Edit
Different varieties of Spirits or Wines can be combined at the factory to maintain consistent quality from batch to batch. See Blended whiskey.
Ad blocker interference detected!
Wikia is a free-to-use site that makes money from advertising. We have a modified experience for viewers using ad blockers

Wikia is not accessible if you've made further modifications. Remove the custom ad blocker rule(s) and the page will load as expected.