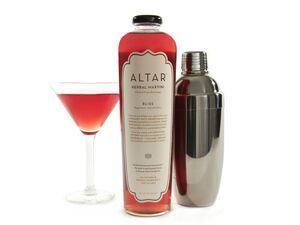 ALTAR's Herbal Martinis are alcohol-free craft cocktails that can be served straight from the bottle. They are made with all natural and organic ingredients and are low calorie, gluten free, and with no added sugars. Read more about the company here...
Sample Recipe
Edit
3 oz. (90 ml) ALTAR Bliss
1 oz. (30 ml) Lemonade
1 oz. (30 ml) Kombucha Raspberry Flavor with Chia Seeds
Directions
Edit
Combine ingredients in a cocktail shaker with ice
Shake until chilled
Strain into Cocktail glass
Garnish with a lemon twist
Serve!