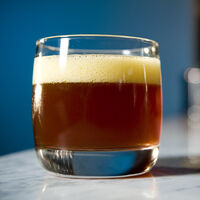 Preparation
Edit
In a medium bowl, combine 200 grams orange juice, 2.5 grams Versa-Whip (available online), 1/2 gram xanthan gum (also available online). Use immersion blender with whisk attachment to whip juice into foam.
In chilled cocktail shaker or pint glass, stir together Scotch, vermouth, bitters, and ice until well combined. Strain into chilled double old fashioned glass and top with cherry ale and orange foam.
References
Edit
↑

Versawhip is a soy protein that is used similarly to egg whites or gelatin in the stabilization of foams, especially whipped ones. It has greater strength than egg whites and a greater temperature range than gelatin. However, Versawhip will not work with products containing fat. It is also often combined with xanthan gum for more stable foams.
Ad blocker interference detected!
Wikia is a free-to-use site that makes money from advertising. We have a modified experience for viewers using ad blockers

Wikia is not accessible if you've made further modifications. Remove the custom ad blocker rule(s) and the page will load as expected.