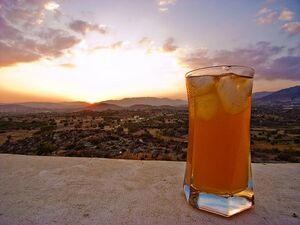 The Brandy Sour is a mixed alcoholic cocktail that has been cited as the national drink of Cyprus. While other forms of the Brandy Sour cocktail exist, the Cypriot variety is a distinct mixture, which only shares the basic brandy and lemon flavorings with other variants. Both brandy and lemons are among Cyprus's major exports, and both have distinctive Cypriot characteristics.
Serves: 1
Ingredients
Edit
Directions
Edit
Fill Highball glass with ice cubes
Add bitters, lemon juice and brandy
Stir gently
Serve immediately
Ad blocker interference detected!
Wikia is a free-to-use site that makes money from advertising. We have a modified experience for viewers using ad blockers

Wikia is not accessible if you've made further modifications. Remove the custom ad blocker rule(s) and the page will load as expected.