Description
Edit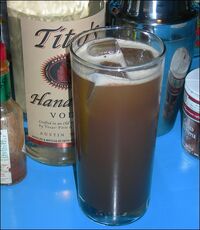 This is one of those things you're convinced must be a joke. And then you try it, and realize it's not too different from a Bloody Mary! And depending on your tastes, still think is disgusting. For added effect, garnish with a small plastic cow, or wedge a mini-meatball on the side of the glass.
Ingredients
Edit
Directions
Edit
Mix all ingredients with ice cubes in a chilled double old fashioned glass.
OR
Strain and pour into a shot glass for a bull shot "shot".
Originally, this drink used Beefamato, but given that this product's production is regional and sporadic, many places replace Beefamato with Clamato or vegetable juice (better known as V-8).
Some drinkers prefer a completely tomato-less version, using double-strength broth and serving it on the rocks.