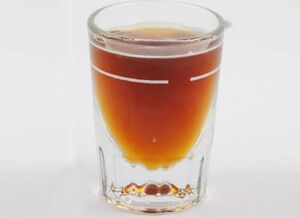 Buzzard breath (ˈbəzərd ˈbreθ) n. 1. "Breath so bad it could knock a buzzard clear off an outhouse 100 yards away."
While it is unclear whether this shooter is the cause or the cure for the condition (there is evidence of both), it is perfectly clear that this is a delicious drink fully worthy of a relaxed sipping rather than a fast shot.
Ingredients
Edit
Directions
Edit
Contributed by
Edit
Ad blocker interference detected!
Wikia is a free-to-use site that makes money from advertising. We have a modified experience for viewers using ad blockers

Wikia is not accessible if you've made further modifications. Remove the custom ad blocker rule(s) and the page will load as expected.