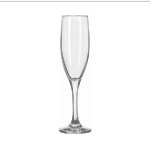 Champagne flutes are characterised by a long stem with a tall, narrow bowl on top. The shape is designed to keep sparkling wine desirable during its consumption. The glass is designed to be held by the stem to help prevent the heat from the hand from warming the champagne. The bowl itself is designed in a manner to help retain the signature carbonation in the beverage. This is achieved by reducing the surface area at the opening of the bowl. Additionally the flute design adds to the aesthetic appeal of champagne, allowing the bubbles to travel further due to the narrow design, giving a far more pleasant visual appeal.
See also
Edit
Ad blocker interference detected!
Wikia is a free-to-use site that makes money from advertising. We have a modified experience for viewers using ad blockers

Wikia is not accessible if you've made further modifications. Remove the custom ad blocker rule(s) and the page will load as expected.