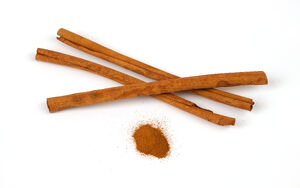 Cinnamon (Cinnamomum verum, synonym C. zeylanicum) is a small evergreen tree belonging to the family Lauraceae, native to Sri Lanka, or the spice obtained from the tree's bark. It is often confused with other, similar species and the spices derived from them, such as cassia and Cinnamomum burmannii, which are often called cinnamon too.
Ad blocker interference detected!
Wikia is a free-to-use site that makes money from advertising. We have a modified experience for viewers using ad blockers

Wikia is not accessible if you've made further modifications. Remove the custom ad blocker rule(s) and the page will load as expected.