Description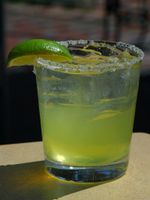 The margarita is the best known of all tequila-based cocktails. There are three main ingredients in a margarita: Tequila, Triple Sec (Orange liqueur, and lime juice.
Source: Margarita from the Wikibooks Bartending Guide—original source of recipe, licensed under the GNU Free Documentation License
Ingredients
Directions
Rub the rim of a cocktail glass with a lime wedge.
Dip in salt.
Shake all ingredients with ice.
Strain into a cocktail glass.
Garnish with a lime wedge or slice.
Alternate Recipe
The traditional recipe above is best (three parts Tequila, two parts Triple Sec and one part lime juice) but if you don't have lime juice but you do have sweet and sour mix you can try this one out instead. One oz. Tequila, 0.5 to 1 oz Triple Sec, 2 oz. sweet and sour.
Ad blocker interference detected!
Wikia is a free-to-use site that makes money from advertising. We have a modified experience for viewers using ad blockers

Wikia is not accessible if you've made further modifications. Remove the custom ad blocker rule(s) and the page will load as expected.