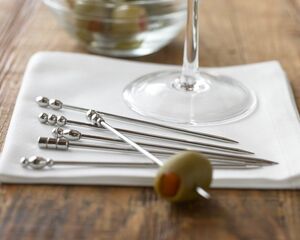 A cocktail skewer (also known as cocktail stick or cocktail toothpick) is a short cylindrical stick, made of wood, plastic or metal, that has a somewhat sharp point on one or both ends. It is usually used as a skewer for holding garnishes (such as cherries or olives) in cocktails and also for serving food (such as small "cocktail" sausages or diced cheese and pineapple) at parties.
Related to Cocktail Swords, toothpicks, cocktail umbrellas and Swizzle Sticks.
Ad blocker interference detected!
Wikia is a free-to-use site that makes money from advertising. We have a modified experience for viewers using ad blockers

Wikia is not accessible if you've made further modifications. Remove the custom ad blocker rule(s) and the page will load as expected.