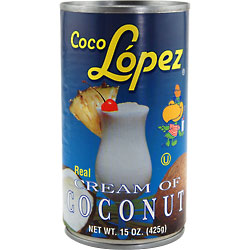 Coco López Cream of Coconut is a Puerto Rican coconut product which is used in many popular drinks. It is a mixture of sugarcane sugar and coconut cream. Coco López was the base for the invention of the tropical drink, Piña Colada. Initially, most piña coladas (pineapple mixed with coconuts) used Coco López to bring out the coconut flavor. Nowadays, various other coconut products are also used when making piña coladas.
Goya produces a similar product; Coco Goya. Both products are available in cans and in plastic squeeze bottles.
Ad blocker interference detected!
Wikia is a free-to-use site that makes money from advertising. We have a modified experience for viewers using ad blockers

Wikia is not accessible if you've made further modifications. Remove the custom ad blocker rule(s) and the page will load as expected.