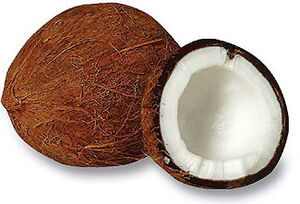 Botanically, the coconut is a drupe, not a true nut. Like other fruits, it has three layers: exocarp, mesocarp, and endocarp. The exocarp and mesocarp make up the husk of the coconut. Coconuts sold in the shops of non-tropical countries often have had the exocarp (outermost layer) removed. The mesoocarp or "shell" thus exposed is the hardest part of the coconut, and is composed of fibers called coir which have many traditional and commercial uses.
The usable portion is the inner, white "meat" of the fruit and the coconut water found therein.
See also
Edit
Ad blocker interference detected!
Wikia is a free-to-use site that makes money from advertising. We have a modified experience for viewers using ad blockers

Wikia is not accessible if you've made further modifications. Remove the custom ad blocker rule(s) and the page will load as expected.