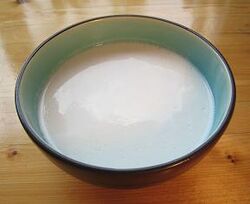 Wikipedia Article About Coconut milk on Wikipedia
Coconut milk is a sweet, milky white cooking base derived from the meat of a mature coconut. The colour and rich taste of the milk can be attributed to the high coconut oil content and coconut sugars. The term "coconut milk" does not refer to the watery liquid found inside the nut; this is called "coconut water" or "coconut juice."
Two grades of coconut milk exist: thick and thin (or light). Thick coconut milk is prepared by directly squeezing grated coconut meat through cheesecloth. The squeezed coconut meat is then soaked in warm water and squeezed a second or third time for thin coconut milk. Thick milk is used mainly to make desserts and rich, dry sauces. Thin milk is used for soups and general cooking. This distinction is usually not made in western nations since fresh coconut milk is usually not produced, and most consumers buy coconut milk in cans. Manufacturers of canned coconut milk typically combine the thin and thick squeezes, with the addition of water to maintain a consistent product between batches.
See also
Edit
Ad blocker interference detected!
Wikia is a free-to-use site that makes money from advertising. We have a modified experience for viewers using ad blockers

Wikia is not accessible if you've made further modifications. Remove the custom ad blocker rule(s) and the page will load as expected.