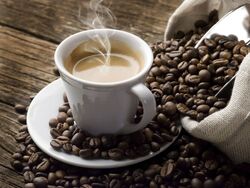 Coffee is a brewed beverage with a distinct aroma and flavor, prepared from the roasted seeds of the coffee plant. The seeds are found in coffee "berries", which grow on trees cultivated in over 70 countries, primarily in equatorial Latin America, Southeast Asia, Maldives, and Africa. Green (unroasted) coffee is one of the most traded agricultural commodities in the world. Coffee is slightly acidic (pH 5.0–5.1) and can have a stimulating effect on humans because of its caffeine content. It is one of the most consumed drinks in the world.
Ad blocker interference detected!
Wikia is a free-to-use site that makes money from advertising. We have a modified experience for viewers using ad blockers

Wikia is not accessible if you've made further modifications. Remove the custom ad blocker rule(s) and the page will load as expected.