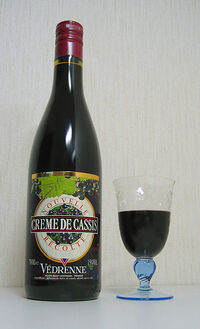 Crème de Cassis is a blood-red, sweet, blackcurrant-flavored liqueur, and is an ingredient of Kir, an apéritif. The modern version of the drink first appeared in the Burgundy region in 1841, displacing "Ratafia de Cassis" from prior centuries. It is made from blackcurrants crushed into refined alcohol, with sugar subsequently added. While Crème de Cassis is a specialty of Burgundy it is made in other cities of France, Luxemburg and Quebec.
Ad blocker interference detected!
Wikia is a free-to-use site that makes money from advertising. We have a modified experience for viewers using ad blockers

Wikia is not accessible if you've made further modifications. Remove the custom ad blocker rule(s) and the page will load as expected.