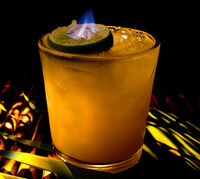 Ingredients
Edit
1 oz. spiced rum
1 oz. white rum
3/8 oz. lemon
3/8 oz. lime
3/4 oz. oj
1/2 oz. house-made orgeat
Two dashes of Angostura bitters

Directions
Edit
Dry shake, and strain into a double old fashioned glass over crushed ice. Garnish with an inverted lime shell filled with 1/2 oz. of Green Chartreuse. Set Chartreuse ablaze, and serve.
Ad blocker interference detected!
Wikia is a free-to-use site that makes money from advertising. We have a modified experience for viewers using ad blockers

Wikia is not accessible if you've made further modifications. Remove the custom ad blocker rule(s) and the page will load as expected.