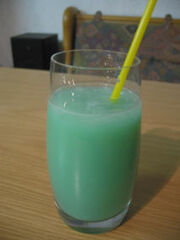 A non-blended variant on the Piña Colada, the Cyan Star uses crushed ice
Ingredients
Edit
Directions
Edit
Shake with ice.
Pour into tall glass, glass goblet or glass tankard.
Serve with a straw.
Since its attractive colour is a primary charm of this cocktail, it should always be served in a clear glass.
This drink is often served with extensive garnish; a wedge of pineapple and a cherry on a stirrer and/or a little umbrella.