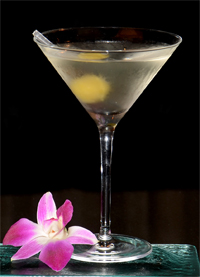 Double Truffle Martini:
Edit
Perhaps you thought truffles were just for that brief period in the fall, or were for fancy pasta dishes? Think again. This truffle-based drink is made with Double Cross Vodka and dry vermouth, but, unlike your typical martini, truffle juice is added to the mix and the whole thing is finished off with a truffle-stuffed olive.
3 ounces Double Cross Vodka
½ ounce dry vermouth
½ ounce truffle juice
Truffle-stuffed olive, for garnish
Combine ingredients in a shaker with ice. Shake vigorously, then pour into a martini glass. Garnish with a truffle-stuffed olive.
Ad blocker interference detected!
Wikia is a free-to-use site that makes money from advertising. We have a modified experience for viewers using ad blockers

Wikia is not accessible if you've made further modifications. Remove the custom ad blocker rule(s) and the page will load as expected.