Ad blocker interference detected!
Wikia is a free-to-use site that makes money from advertising. We have a modified experience for viewers using ad blockers

Wikia is not accessible if you've made further modifications. Remove the custom ad blocker rule(s) and the page will load as expected.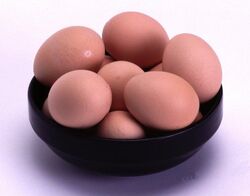 About Eggs
Edit
In many classic cocktails, eggs are an important part of the recipe, providing unmatched texture and mouth feel. Some of the best known cocktails that use eggs are flips, sours and egg nog. Without the egg, these drinks are a mere shadow of the original recipe.
Egg white
Edit
Egg white is the common name for the clear liquid (also called the albumen or the glair/glaire) contained within an egg. Many of the drinks that use egg whites tend to be acidic, like sours, because the acid in the drink stabilizes the egg protein. This inhibits the proteins them from binding with each other, which makes for smaller bubbles and a better foam. Egg whites also don't contribute much, if any, flavour to the cocktail. Powdered egg whites are also a good substitute if you prefer not to use fresh eggs, but don't confuse powdered egg whites with meringue powder, this is a completely different product. To re-hydrate your egg white, take two teaspoons of powder and add one ounce of water. This will make roughly one egg white.
In classic cocktail terminology, "silver" appended to the name of a cocktail (as in "Silver Bronx") requests the additional presence of egg white in recipes otherwise without egg.
Egg yolk
Edit
The egg yolk is the yellow inside an egg. Its primary purpose is to serve as a food reserve for the developing embryo. In classic cocktail terminology, "golden" appended to the name of a cocktail (as in "Golden Bronx") often indicates the additional presence of egg yolk in recipes otherwise without egg. Egg yolks are mainly used as emulsifying agents to impart a "noggy" character to a drink.