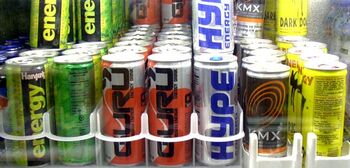 An energy drink is a type of beverage containing stimulant drugs, chiefly caffeine, which is marketed as providing mental and physical stimulation. They may or may not be carbonated, and generally contain large amounts of caffeine and other stimulants, and many also contain sugar or other sweeteners, herbal extracts and amino acids. There are many brands and varieties of energy drinks.
Ad blocker interference detected!
Wikia is a free-to-use site that makes money from advertising. We have a modified experience for viewers using ad blockers

Wikia is not accessible if you've made further modifications. Remove the custom ad blocker rule(s) and the page will load as expected.