Ad blocker interference detected!
Wikia is a free-to-use site that makes money from advertising. We have a modified experience for viewers using ad blockers

Wikia is not accessible if you've made further modifications. Remove the custom ad blocker rule(s) and the page will load as expected.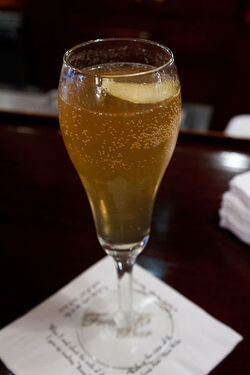 The French 75 is a cocktail made from gin, Champagne, lemon juice, and sugar, created in 1915 at the New York Bar in Paris by barman Harry MacElhone. The combination was said to have such a kick that it felt like being shelled with the powerful French 75mm field gun, also called a "75 Cocktail", or "Soixante Quinze" in French. The French 75 was popularized in America at the Stork Club in New York.
The drink's recipe was first recorded in The Savoy Cocktail Book in 1930. The recipe in the Savoy Cocktail Book uses gin. A later cocktail book, The Fine Art of Mixing Drinks by David Embury, claims that the French 75 is a Cognac-based drink.
Serves: 1
Ingredients
Edit
Directions
Edit
Pour gin into a flute or Collins glass
Add sugar and stir until dissolved
Fill with sparkling wine or champagne.
Garnish with Slice of cherry or orange OR Lemon twist
French 75 from the Wikibooks Bartending Guide -- original source of recipe, licensed under the GNU Free Documentation License