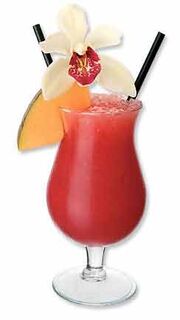 Cocktail garnishes are decorative ornaments that add character or style to a mixed drink, most notably to cocktails.
A large variety of cocktail garnishes are used. Many rum-based cocktails, especially those with fruit flavors, tend to be decorated with tropical-themed garnishes or slices of fruit. Tequila-based drinks favor limes and other citrus fruits. Gin- and vodka-based drinks tend toward garnishes with a more dignified flair (olives, onions, or possibly a citrus twist or a single maraschino cherry), unless they are variations of a fruity rum-based drink. Whiskey- and brandy-based drinks tend toward minimal garnishment, if any. Restaurant chains and hotel bars tend to use larger and more ostentatious garnishes, and neighborhood bars tend to go the other extreme.
Types of garnish
Edit
Celery stalks (usually with leaves attached)
Cinnamon, grated or sticks
Cocktail olives (often stuffed with pimentos)
Lime slice, twist, or wedge
Mint sprigs or leaves
Nutmeg, grated
Orange slice, twist, or wedge
Pineapple slice or wedge
Salt, coarse or kosher (applied to the rim of glasses)
Sugar, granulated or powdered
Shrimp
Strawberries
Watermelon wedge
sometimes more whimsical garnishes are used, such as plastic frogs (see Swamp Water)
Ad blocker interference detected!
Wikia is a free-to-use site that makes money from advertising. We have a modified experience for viewers using ad blockers

Wikia is not accessible if you've made further modifications. Remove the custom ad blocker rule(s) and the page will load as expected.