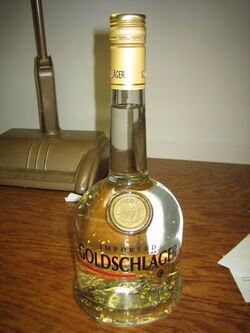 Goldschläger is a Swiss cinnamon schnapps (43.5% alcohol by volume or 87 proof; originally it was 53.5% alcohol or 107 proof), a liqueur with very thin, yet visible flakes of gold floating in it. The actual amount of gold has been measured at approximately 13 mg in a 1 lt. bottle of Goldschläger. This amounts to less than US$1.00 on the international gold market.
Goldschläger was produced in Switzerland until the 1990s, when the brand was acquired by Diageo, which continued production of Goldschläger schnapps in Italy until 2008, when it was purchaced by Global Brands and was again produced in Switzerland.
The German word Goldschläger ("gold beater") designates the profession of gold leaf makers, who beat bars of gold into micrometre-thin sheets.
Ad blocker interference detected!
Wikia is a free-to-use site that makes money from advertising. We have a modified experience for viewers using ad blockers

Wikia is not accessible if you've made further modifications. Remove the custom ad blocker rule(s) and the page will load as expected.