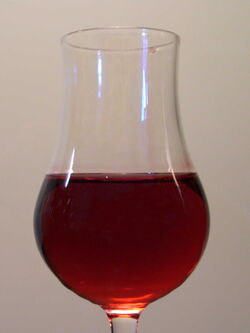 Grenadine is traditionally a red syrup. It is used as an ingredient in cocktails, both for its flavor and to give a pink tinge to mixed drinks. "Grenadines" are also made by mixing the syrup with cold water in a glass or pitcher, sometimes with ice.
The name "grenadine" comes from the French word grenade, meaning pomegranate, as grenadine was originally prepared from pomegranate juice, cherry juice, and sugar. However, "grenadine" is also a common name mistakenly applied to syrups and beverages consisting of other fruit juices (e.g. raspberry, red currant, blackberry) and sugar syrup. The characteristic flavor can be obtained from a mixture of black currant juice and other fruit juices with the black currant flavor dominating.
The food industry, however, has widely replaced grenadine fruit bases with artificial ingredients. The Mott's brand "Rose's", by far the most common grenadine brand in the United States, is now formulated entirely out of a high-fructose corn syrup base.
Grenadine syrup is commonly used to mix "cherry" colas (also called Grenadinis or Roy Rogers cocktails), pink lemonade, Shirley Temple cocktails, Tequila Sunrises, and flavor-soaked cherries, making them bright red. These are in turn often used in fruitcakes. It can also be added to a Mimosa to give it a red and orange color. Grenadine can also be combined with beer, forming what has been coined "grena-beer" or more recently "Christmas beer". The grena-beer fad originated in Europe during the 1990s. The name is also applied to alcoholic cordials, such as that made by J. R. Phillips "originally distilled from Devon herbs and spices."
See also
Edit
Ad blocker interference detected!
Wikia is a free-to-use site that makes money from advertising. We have a modified experience for viewers using ad blockers

Wikia is not accessible if you've made further modifications. Remove the custom ad blocker rule(s) and the page will load as expected.