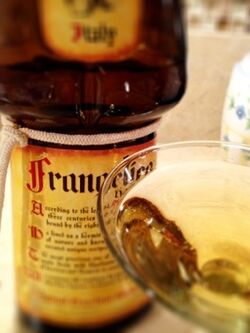 The Hazelnut Martini is a take on the classic Martini using hazelnut liquer in place of the traditional Vermouth.
Ingredients
Edit
Directions
Edit
Combine vodka and liqueur in a mixing glass with ice
Stir until well-chilled
Strain into chilled martini glass
Garnish with a Lemon twist
Serve!
It has become popular to rim the glass with finely chopped hazelnuts.
Much like a traditional martini, proportions should be adjusted for taste (this writer prefers a 50-50 "perfect" proportion)
Try it with a splash of triple sec or a dash of Orange bitters
Ad blocker interference detected!
Wikia is a free-to-use site that makes money from advertising. We have a modified experience for viewers using ad blockers

Wikia is not accessible if you've made further modifications. Remove the custom ad blocker rule(s) and the page will load as expected.