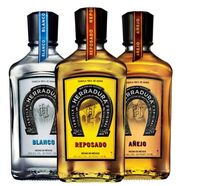 Herradura is a brand of tequila.
Tequila Herradura (officially Grupo Industrial Herradura) is a tequila distiller located in Amatitán, Jalisco, Mexico. It was formally founded in 1870 by Félix López and the business remained in the family for over 125 years. Today it is owned by US beverage maker Brown-Forman, but the tequila is still made in the same place and facilities under a Mexican subsidiary. Tequila products sold under the Herradura name are still 100% agave, made in the same traditional ways as those of the last century. The company makes other tequila products such as El Jimador a tequila blend spirit which is the best seller in Mexico as well as New Mix, a tequila and grapefruit soda beverage. Since its acquisition by Brown-Forman, Herradura has had a number of promotional efforts in Mexico and the United States, including inviting artists to use tequila barrels at the bases for art pieces, which are then displayed and auctioned off for charity.
Types of Herradura Tequila
Edit
External Links
Edit
Ad blocker interference detected!
Wikia is a free-to-use site that makes money from advertising. We have a modified experience for viewers using ad blockers

Wikia is not accessible if you've made further modifications. Remove the custom ad blocker rule(s) and the page will load as expected.