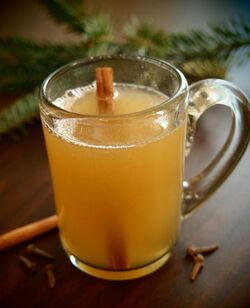 A rum drink contributed by The Bartending School.
Ingredients
Edit
Frozen Base
Edit
Other Ingredients
Edit
Directions
Edit
Add 3 tablespoons of this base to 1/2 cup boiling water and 2-4 oz dark rum (adjust strength to taste)
(optional) Garnish with cinnamon stick OR whipped cream
Serve
The frozen base may be stored in freezer indefinitely.
Ad blocker interference detected!
Wikia is a free-to-use site that makes money from advertising. We have a modified experience for viewers using ad blockers

Wikia is not accessible if you've made further modifications. Remove the custom ad blocker rule(s) and the page will load as expected.