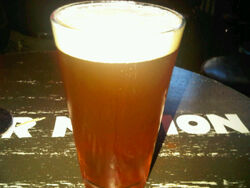 A fairly extreme variant on a Boilermaker.
Ingredients
Edit
Directions
Edit
Pour sake, tequila, orange juice, and tomato juice into 4 oz. old fashioned glass.
Pour pilsner into 22 oz. beer mug.
Drop first glass in mug and slam down beer when glass reaches bottom. Care should be taken to not break the glass.
There is no reason why the contents of the old fashioned glass cannot be simply poured into the beer.