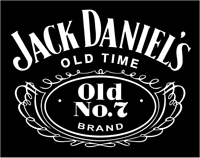 Jack Daniel's is a brand of whiskey that is among the world's best-selling liquors and is known for its square bottles and black label. Despite many misconceptions by consumers and even in the marketplace, it is not marketed as a bourbon according to the official Jack Daniels web site. It is produced in Lynchburg, Tennessee by Jack Daniel Distillery, which has been owned by the Brown-Forman Corporation since 1956. Despite the operational distillery, Jack Daniel's home county of Moore is a dry county.
Frank Sinatra was buried with a bottle of Jack Daniel's.
Ad blocker interference detected!
Wikia is a free-to-use site that makes money from advertising. We have a modified experience for viewers using ad blockers

Wikia is not accessible if you've made further modifications. Remove the custom ad blocker rule(s) and the page will load as expected.