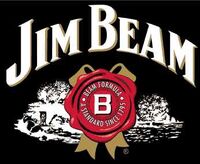 Jim Beam is a popular brand of
whiskey
, more specifically Kentucky Straight
Bourbon
Whiskey. The brand has been in production since 1975 by seven generations of the Beam family. The Beam family is still involved in production but the company is currently owned by Beam Global Spirits & Wine.
Jim Beam was named after James B. Beam who rebuilt the brand after the Prohibition.
Types of Jim Beam
Edit
Ad blocker interference detected!
Wikia is a free-to-use site that makes money from advertising. We have a modified experience for viewers using ad blockers

Wikia is not accessible if you've made further modifications. Remove the custom ad blocker rule(s) and the page will load as expected.