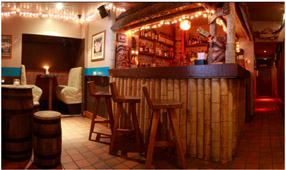 What happens when you mix alcohol, fire and a tiki bar together? You get Manchester's Keko Moke tiki bar, which is the best place to have drinks and a good time. Their drinks are appropriately tropical-themed cocktails packed with fruit and ice. The bartenders all wear Hawaiian shirts and The decor is themed and slightly cheesy. If a great vibe is what you are looking for check out the Keko Moku in Manchester, England.
100 High Street, Northern Quarter, Manchester, M4 1HP , Manchester
Telephone: +44 0161 832 4529
Ad blocker interference detected!
Wikia is a free-to-use site that makes money from advertising. We have a modified experience for viewers using ad blockers

Wikia is not accessible if you've made further modifications. Remove the custom ad blocker rule(s) and the page will load as expected.