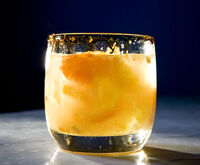 1 cup sugar
1 tablespoon light corn syrup
2 tablespoons Soy sauce
1 tablespoon (1/2 ounce) fresh lemon juice
1 heaping teaspoon raw sugar such as turbinado or Demerara
6 kumquats, cut in half widthwise and seeded
1/4 cup (2 ounces) cachaca
1 cup ice cubes
Preparation
Edit
In heavy 1 1/2- to 2-quart saucepan over moderately low heat, stir together sugar and 1/2 cup water until well combined. Heat until sugar melts, then simmer mixture, uncovered, without stirring, until medium caramel color, about 25 minutes. Remove from heat and stir in corn syrup. Cool 3 minutes, then stir in soy sauce. Cool completely. (Sauce can be made ahead and stored, tightly covered, at room temperature up to 1 month.)
Pour 1/4 teaspoon soy-caramel sauce into bottom of 10-ounce glass (such as double old-fashioned). Set aside.
In cocktail shaker, stir together lemon juice and sugar. Add kumquats and, using wooden muddler or spoon, pound and press until kumquats are crushed. Add cachaca and ice cubes and shake vigorously for 5 seconds. Pour (unstrained) into glass with soy-caramel sauce.
Ad blocker interference detected!
Wikia is a free-to-use site that makes money from advertising. We have a modified experience for viewers using ad blockers

Wikia is not accessible if you've made further modifications. Remove the custom ad blocker rule(s) and the page will load as expected.