Ad blocker interference detected!
Wikia is a free-to-use site that makes money from advertising. We have a modified experience for viewers using ad blockers

Wikia is not accessible if you've made further modifications. Remove the custom ad blocker rule(s) and the page will load as expected.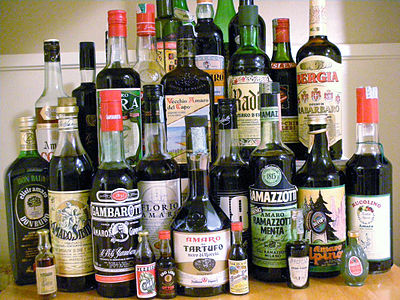 A liqueur is a sweet alcoholic beverage, often flavored with fruit, herbs, spices, flowers, seeds, roots, plants, barks, and sometimes cream.
Some popular liqueurs are:
Almond liqueurs
Edit
Anise liqueurs
Edit
Apple liqueurs
Edit
Apricot liqueurs
Edit
Banana liqueurs
Edit
Blackberry liqueurs
Edit
Cherry liqueurs
Edit
Chocolate liqueurs
Edit
Coffee liqueurs
Edit
Cranberry liqueurs
Edit
Currant liqueurs
Edit
Hazelnut liqueurs
Edit
Herbal liqueurs
Edit
Irish cream liqueurs
Edit
Lychee liqueurs
Edit
Melon liqueurs
Edit
Mint liqueurs
Edit
Orange liqueurs
Edit
Peach liqueurs
Edit
Pear liqueurs
Edit
Pistachio liqueurs
Edit
Raspberry liqueurs
Edit
Schnapps
Edit
Strawberry liqueurs
Edit