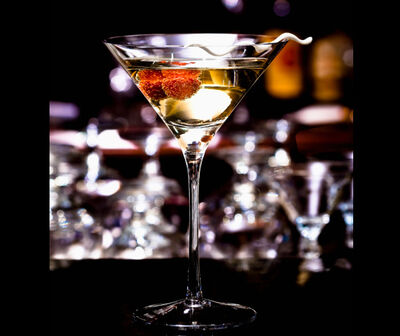 The Magie Noir is a cocktail served in the Umbaba club in the West End of London. Created by head barman Giles Andreis at the request of two Goldman Sachs employees wanting the best ingredients possible, it was added to the drinks menu for the halloween party of 29 October 2005 with a cost of £333 (Approx. US$570) per glass.
Ingredients
Edit
Directions
Edit
Combine cognac, champagne, Crème de Mûre and 1-2 blades of lemongrass in a cocktail shaker half-filled with ice
Shake until well-chilled
Strain into cocktail glass
Garnish with Lychee fruit and lemongrass
Serve
The drink is presented in a crystal glass with a 24-carat white gold cocktail pin.
External links
Edit
Ad blocker interference detected!
Wikia is a free-to-use site that makes money from advertising. We have a modified experience for viewers using ad blockers

Wikia is not accessible if you've made further modifications. Remove the custom ad blocker rule(s) and the page will load as expected.