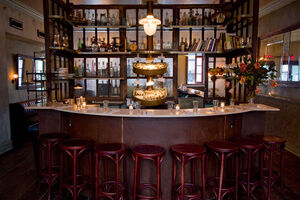 Maison Premiere
is an oyster house and cocktail den reflective of the staple establishments of New York, Paris, and New Orleans. Inspired by hotel lobbys of days gone by, afternoons in Paris cafes, late night dinners brooding over bivalves and wading through glasses of pastis ans absinthe. Their absinthe list boasts the largest collection of premium absinthes in New York City, and in honor of the ceremony and traditions of absinthe, Maison Premiere's ode to the green fairy can be found center stage dispensing chilled water in the form of the world's most accurate working replica of the absinthe fountain which once flowed in the Olde Absinthe House of New Orleans.
Contact Info
Edit
298 Bedford Ave (between South 1st St and Grand St)
Brooklyn, NY 11211
(347) 335-0446
http://www.maisonpremiere.com/
Cocktails
Edit
Absinthes
Edit
Vieux Pontarlier (France)
Duplais Blanche (Switzerland)
Duplais Verte (Switzerland)
Pernod 68 (France)
Pacifique (USA)
Jade Nouvelle New Orleans (France)
La Clandestine (Switzerland)
Vieux Carre (USA)
Lucid (USA
Germain Robin (USA)
Kubler (Switzerland)
Ridge Distillery (USA)
Leopold Bros. (USA)
Delaware Phoenix- "walton waters" (USA)
Delware Phoenix- "meadow of love" (USA)
Tenneyson Royale (USA)
Mansithe (Switzerland)
St. George Verte (USA)
La Muse Verte (France)
Obsello (Spain)
Edward III (USA)
North Shore "La Sirene" (USA)
La Sorciere Verte (USA)
La Sorciere Bleue (USA)
Ad blocker interference detected!
Wikia is a free-to-use site that makes money from advertising. We have a modified experience for viewers using ad blockers

Wikia is not accessible if you've made further modifications. Remove the custom ad blocker rule(s) and the page will load as expected.