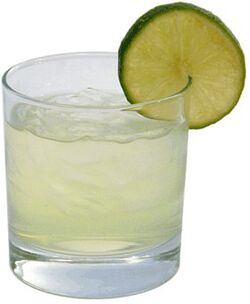 The margarita is a cocktail consisting of tequila mixed with triple sec and lime or lemon juice, often served with salt on the glass rim. It is the most common tequila-based cocktail in the United States. The drink is usually served shaken with ice, on the rocks, blended with ice (frozen margarita) or without ice (straight up). All three methods are frequently served with salt or sugar on the rim of the glass which is optional.
Margarita recipes
Edit
Ad blocker interference detected!
Wikia is a free-to-use site that makes money from advertising. We have a modified experience for viewers using ad blockers

Wikia is not accessible if you've made further modifications. Remove the custom ad blocker rule(s) and the page will load as expected.