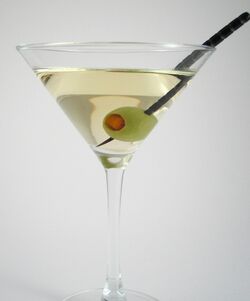 The Martini, more so than any other drink, embodies the class and style of the cocktail in the popular imagination. Truly the king of cocktails.
Martini from the Wikibooks Bartending Guide -- original source of recipe, licensed under the GNU Free Documentation License.
Ingredients
Edit
Directions
Edit
Fill a martini glass with ice and water, set aside.
Fill the glass half of a two-piece mixing glass to the top with ice, add 1 oz. dry vermouth.
Add 2 oz. gin, stir gently until well-chilled.
Discard ice and soda water from the martini glass.
Strain martini into glass.
Serve
↑

Not to be confused with a cigarette butt put out in a half-empty martini glass at a crowded bar, as that would be a 'filthy contaminated martini'.
Ad blocker interference detected!
Wikia is a free-to-use site that makes money from advertising. We have a modified experience for viewers using ad blockers

Wikia is not accessible if you've made further modifications. Remove the custom ad blocker rule(s) and the page will load as expected.