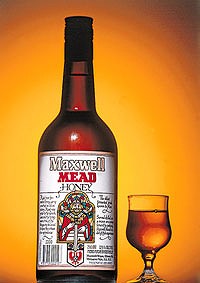 Mead, also called honey wine, is an alcoholic beverage that is produced by fermenting a solution of honey and water. It may also be produced by brewing a solution of water and honey with grain mash, which is strained before or after fermentation. Depending on local traditions and specific recipes, it may be flavored with spices, fruit, or hops (which produce a bitter, beer-like flavor). The alcoholic content of mead may range from about 8% ABV to 18%. It may be still, carbonated or naturally sparkling, and it may be dry, semi-sweet or sweet.
Mead is arguably the oldest alcoholic beverage on Earth. Chinese pottery vessels dating from 7000 B.C. suggest evidence of mead fermentation that out-ages both wine and beer. The very first batch of mead was probably a chance discovery: Early foragers likely drank the contents of a rainwater-flooded beehive that had fermented naturally with the help of airborne yeast. Once knowledge of mead production was in place, knowledge spread throughout the globe, becoming popular with Vikings, Mayans, Egyptians, Greeks, and Romans alike.
Ad blocker interference detected!
Wikia is a free-to-use site that makes money from advertising. We have a modified experience for viewers using ad blockers

Wikia is not accessible if you've made further modifications. Remove the custom ad blocker rule(s) and the page will load as expected.