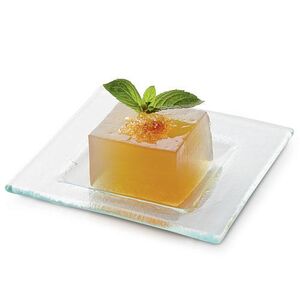 This Kentucky Derby-style Jell-O shot is a sophisticated and festive twist on the classic race-day cocktail.
Source: Southern Living
Ingredients
Edit
2 envelopes unflavored gelatin
2 cups cold water
1/2 cup firmly packed fresh mint leaves
1/2 cup sugar
1 cup bourbon
Fresh mint sprigs (garnish)
Coarse sparkling sugar (garnish)
Directions
Edit
Sprinkle gelatin over cold water in a medium saucepan.
Let stand 5 minutes.
Add mint leaves and sugar.
Cook over medium-high heat, stirring often, 3 to 5 minutes or until steaming.
Let stand 15 minutes.
Remove and discard mint leaves.
Stir in bourbon.
Pour mixture into a lightly greased 9- x 5-inch loaf pan (or in a silicone mold).
Chill 4 hours to 1 week.
Cut into squares.
Garnish with fresh mint sprigs and coarse sparkling sugar.
To make these less strong, increase cold water to 2¼ cups and reduce bourbon to ¾ cup.