Description
The Mojito is a traditional Cuban drink, known to Americans as a favorite of Ernest Hemingway.
Mojito from the Wikibooks Bartending Guide—original source of recipe, licensed under the GNU Free Documentation License
Serves: 1
Ingredients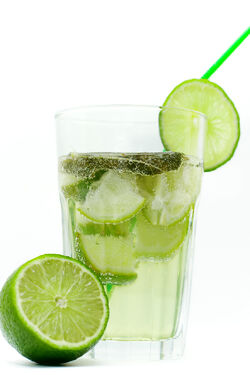 Garnish
Directions
Variations
Ernest Hemingway requested Mojitos without sugar. Of course, this suggests that less lime juice be used.
It has become common to use a lemon-flavored rum such as Bacardi Limon in place of the white rum, reducing or eliminating the lime juice.
The juiced lime may be used as an additional garnish.
For a twist on the traditional mojito, add a handful of raspberries during the muddling stage for an extra hit of flavour.
Virgin Version:Replace white rum with ginger ale soda.