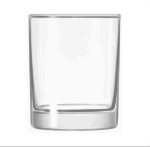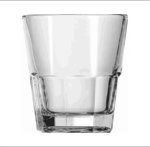 The Old fashioned glass is a short tumbler used for serving an alcoholic beverage, such as whisky, with ice cubes ("on the rocks"). It is also normally used to serve certain cocktails, such as the Old Fashioned, from which it receives its name.
Old Fashioned glasses will usually contain 6 to 10 fluid ounces (180 to 300 mL).
A double Old Fashioned glass contains 12 to 16 fluid ounces (350 to 440 mL).
Name variations
Edit
Lowball glass
Rocks glass
Gibraltar glass
On-the rocks glass
Ad blocker interference detected!
Wikia is a free-to-use site that makes money from advertising. We have a modified experience for viewers using ad blockers

Wikia is not accessible if you've made further modifications. Remove the custom ad blocker rule(s) and the page will load as expected.