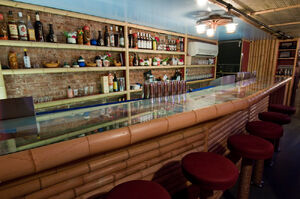 Painkiller
(also Painkiller New York or PKNY) is a tiki-style bar which offers a fusion of Polynesian and Manhattan styles. With genuine fondness of tiki culture, PKNY takes a very serious approach in providing classic Polynesian-style cocktails, a level of dedication to the genre that others seem to be afraid to commit to. Illustrating a parallel between the island cultures of both Polynesian and Old Manhattan, PKNY aims to establish a unique style of tiki which doesn't follow any guidelines other than the ones that they set for themselves. There is an element of escapism in all tiki bars, but here it's an escape that still reminds locals of their Manhattan roots.
Contact Info
Edit
49 Essex St
(between Hester St & Grand St)
New York, NY 10002
(212) 777-8454
Cocktails
Edit
Ad blocker interference detected!
Wikia is a free-to-use site that makes money from advertising. We have a modified experience for viewers using ad blockers

Wikia is not accessible if you've made further modifications. Remove the custom ad blocker rule(s) and the page will load as expected.