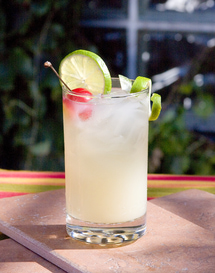 For a refreshing, thirst quenching tequila cocktail, the Paloma is definitely at the top of the list and it's a favorite in Mexico. It's a light, fruity drink with a great fizz and one of the smoothest tequila drinks out there.
Almost any blanco tequila works well in combination with the grapefruit and you may also see this cocktail with grapefruit juice and a splash of soda instead of a grapefruit soda like Squirt.
Prep Time: 3 minutes
Servings: 1
Ingredients
Edit
Directions
Edit
Fill a highball glass with ice
Add the tequila and lime juice
Top it off with grapefruit soda
Serve with a Straw
Ad blocker interference detected!
Wikia is a free-to-use site that makes money from advertising. We have a modified experience for viewers using ad blockers

Wikia is not accessible if you've made further modifications. Remove the custom ad blocker rule(s) and the page will load as expected.